Après sa date de sortie
révélée sur le site chinois 95music
, le prochain single du groupe vient d'être officiellement confirmé
sur le site du Hello! Project
.
Tsugi no Kado wo Magare / Gamusha LIFE / The Middle Management ~Josei Chûkan Kanrishoku~
sera le premier single triple face A du groupe. Toujours prévu pour le
1er Avril
prochain, il comportera 6 éditions, trois régulières et trois limitées.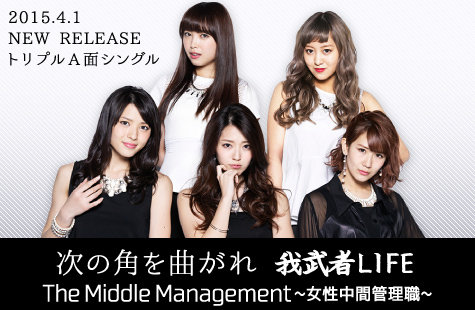 Tsugi no Kado wo Magare
est composée par Takui NAKAJIMA, artiste d'UP-FRONT qui, dernièrement, prends une place importante dans la production des chansons Hello! Project, avec notamment
le single
Taiki Bansei
pour Angerme. Les filles ont déjà effectuées une prestation de cette chanson devant les fans.
Gamusha LIFE
est quand à elle une chanson produite par SHOCKEYE du groupe Shônan no Kaze dans le cadre de l'émission "music Ru". Elle raconte l'histoire du groupe depuis leurs débuts, et est une chanson très émouvante, qui permettra même aux personnes ne connaissant pas le groupe d'en apprendre plus sur celui-ci. Comme
publié sur le compte Instagram de SHOCKEYE
, l'enregistrement de l'instrumental s'est effectué avec un véritable orchestre.
The Middle Management ~Josei Chûkan Kanrishoku~
, est la seule a être écrite par Tsunku♂. Elle est composée par Daniel MERLOT, Aurélien POUDAT, Hyon D. TAKANORI TSUNODA et Stefan BROADLEY. C'est un titre dynamique qui montre la maturité et la féminité des filles. La chanson est vraiment rapide, et le groupe espère montrer son côté cool grâce à cela.
Les pochettes ne sont toujours pas révélées, mais vous pouvez d'ores-et-déjà pré-commander le single chez CD Japan. Les éditions limitées contiennent un DVD, les éditions régulières une carte collector bonus en plus du CD :