August 19, 2010
12:48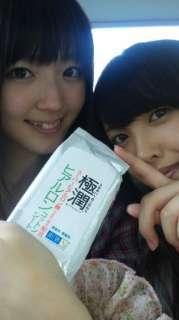 We finished the events at Koshien. Today was hot as well~ So I hydrate myself. I'll eat lunch from now. In the pic, you can see the cotton we're using to apply make-up.
16:22
Moving~ I ate some udon for lunch. The picture has been taken in front of a giraffe after the radio recording. Nakajima and Suzuki's giraffe (lol)
17:57
Announcement. °C-ute STAFF also started a Serend blog. Please check it out, and comment on it... lol
19:32
I'm back !! I brought gifts for everyone~ The picture is from yesterday, we posed with the mascot with Nacky.