(TRANSLATION) Buono! - Interview for Japan LifeStyle #21 (French magazine)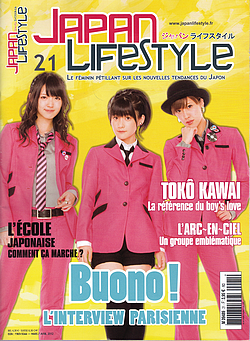 Back in February, the ultrakawaii J-POP unit made a concert in Paris. We met Momoko TSUGUNAGA, Miyabi NATSUYAKI and Airi SUZUKI just before that unique concert date.
You had a concert in Paris, at La Machine du Moulin Rouge. How did you feel before the performance?
Airi :
We were a bit stressed at first ; it was the first time we were singing overseas. But when we saw people cheering for us, it gave us so many courage and energy.
Miyabi :
Airi and me stayed in the same hotel room to practice for the concert.
Airi :
For this overseas travel I took a little dictionnary with me and I tried to familiarize myself with the language. Even if French is a difficult language, I know how to say words such as "Bonjour", "Merci" or "S'il vous plaît". We do our best !
Can you tell us more about the Paris Collection best-of with all of your hits tracks ?
We're very happy to see our band name linked with an event such as Paris Collection. It allowed us to travel and discover France. We're here for only few days but we're already inlove with Paris. We want to come back, and why not staying in your lovely country!
With a title like that, you may be fashion addicts ?
We're fascinated by french fashion. We were surprised to see how classy parisians are. Women have long legs which allow them to be wonderful with simple clothing. For us, it'll be complicated to find our size here !
(laughs)
Besides that, if you come to Japan, we advice you to visit Kyoto, famous for its clothes materials.
Concretely, what does "Buono!" mean ?
It comes from the italian word. Yep, the name of our band means "delicious" !
(laughs)
You're all coming from different bands. How did you manage to mix your universes in Buono! ?
It wasn't complicated. There was unknown parts that we were able to exploit. Everything was opened to build "Buono!". We adapted ourselves to move forward in the same direction.
In 2007, you interpreted the songs for the anime Shugo Chara!, can we say that it was band's starting point?
Indeed. Buono!'s adventure was born thanks to this anime. The lyrics of one of Shugo Chara! song titled "Kokoro no Tamago" illustrates it perfectly.
In 2011 you were the main characters of the horror movie "Gomennasai" for which you sang the theme song "DEEP MIND". What kind of memories do you have about it ?
We all took stageplay lessons and practiced a lot before the filming. Plus, "DEEP MIND" is a hard track, dynamical, almost "agressive". It's been awhile we didn't have a track as dynamical as this one !
Miyabi :
In that horror movie, I'm unrecognizable. I've got long and black hair ; my make-up is also different. But don't imaginate that I'm like that in real life ! I sincerely prefer my "casual" appearence.
(laughs)
What are you hobbies ?
Miyabi :
I like to create my own accessories. For exemple, I'm the one who created this ring
(showing her hand)
. I also like to do shopping. Before each concert, I change my nail color ; here, I've put red with little sparkles !
Airi :
I have a tons, it's difficulte to pick one. I knit and I play guitar.
Momoko :
I like to eat and I'm ready to take hundreds of croissants to Japan !
(laughs)
You also participated in a lot of commercials in Japan.
Momoko :
My "Yurushite Nyan" expression is popular in Japan. I'd love my exuberant and annoying personnality to be used in one french commercial !
Since 2009, you're doing so much concert tours. Do you have some anecdotes about these ?
Momoko :
I have the habit to almost always fall before going on stage. Watch our DVD, you'll understand that better... And when it happens, everyone can see my butt ! In that type of moments, I need a charming prince who can carry me to avoid this type of accidents...
(laughs)
How do you prepare yourself for a concert ?
We're idols, so we need to take care of our health. Inside the band, our method is to eat... ginger. It's efficient and that brings us back upright.
Do you have any message to transmit to your French fans ?
France welcomed us for our first live overseas, so this country will always have a particulary place inside our heart. We'll come back, but dressed in a better way !
(laughs)
Next time, we have to give more of our time to our fans. You too, come to visit our wonderful country, eating sushi, rice, nikujaga, miso soup and having fun in karaoké !
You're young but already popular. How do you see yourself in the future ?
It's true that we're lucky, but we worked hard !
Momoko :
I'd be Mickael JACKSON's feminine equivalent. You'd have to follow my career in a closer way from now!
(laughs)
Airi :
I love to sing since I'm a child. In few years, I'd be in music and I'd love to do some concerts in several countries.
Miyabi :
I'm crazy about clothes. I'd love to open my shop and design my own brand.