Lien de l'interview :
http://chocblog.choc-girl.com.tw/choc/archives/74864
The Japanese girls group ℃-ute in Taiwan !
On the morning of May 24th, in front of the passionate fans waiting for them, the super-popular girls band ℃-ute finally arrived in Taiwan! They also gave a series of short interviews, revealing their impressions about their first concert here, and even some makeup tips! In the end, what makes them so ℃-ute? Read to find out ☆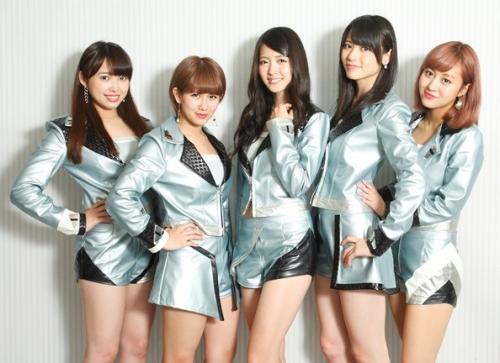 Q. This is your first concert in Taiwan, how do you feel?
Mai HAGIWARA : When we arrived at the airport and saw the number of fans waiting for us, I wish we were already in concert! But I would also like to enjoy the Taiwanese food, to give me a lot of energy.
Airi SUZUKI : Besides, this is our first concert in Taiwan!
Saki NAKAJIMA : When I heard that we were going to perform in Taiwan and that the organizers had prepared a hall, it gave me the impression that we could gather a lot of people.
Mai : Yes, we hope we can bring a lot of people together!
Saki : Even though I'm a little anxious about whether or not many fans will come to support us, we'll do our best to make a worthy performance and we hope to create some nice memories with you.
Q. June 11th is the 9th anniversary since the formation of the group, how do you feel about that?
Mai : Already 9 years have passed! We have gotten to know each other well, and have shared a lot of memories together. We will continue to work hard together.
Q. What has changed the most in 9 years?
Chisato: We participate a lot in concert ideas, and can express our opinions if we want something special. Also, at the end of each concert, we look at the videos taken that day, and we correct our performances to know what things we can improve. It's not the teachers who give us feedback, but the members who criticize themselves, I think it's a good evolution!
Q. What is the one thing you remember most?
Airi: For me, I think it's our performances at Nippon Budokan. As ℃-ute, we managed to make our dream come true, and I feel a great sense of accomplishment.
Q. Have these 9 years together allowed you to change your mind about a particular member?
Mai:
The first time I saw Airi Suzuki, I thought she was a type of girl I had never seen before, I felt weird! At first, because I was quite small, I didn't talk to her often. After several years with her, I felt better and we started to talk a lot together. Compared to before, we have become closer and I feel better.
Airi: When I first saw Maimi Yajima at the audition, I found that her skin was very tanned. But when we started our activities together, I suddenly realized that she had gotten paler! Also, she used to feel a little strange before, but she's starting to reveal her character little by little, I think it's good.
Maimi YAJIMA : The first time I saw Chisato, I thought she had dyed her hair blonde, and she seemed very dynamic as a young girl. When it came time to audition, I was impressed by the fact that even though I was so anxious that I couldn't smile, she smiled easily. Chisato, who had a very boyish style that was missed at first, wearing sneakers and saying "YO~", is now very feminine. She often tells me "I went to the beauty salon today, I went to get my nails done...", she has become a young woman.
Chisato : Even though Mr. Tsunku's predictions about Saki were very good, I never thought she would become so beautiful! She was a simple young girl, and she grew up all of a sudden, there was a avant→après very suddenly. She became really feminine, before I hesitated to approach her to propose something for fear that she would not answer me, but now she invites me.
Saki : I was very impressed by Mai HAGIWARA's dance. When we sang "Hare no Platinum Doori" together, she used a lot of expressions that troubled me. She would get a lot of compliments, "your performance is very feminine, cute, your expressions are very good", and she is able to make a lot of facial expressions at any time. In everyday life, as in work, she has grown a lot.
Q. Can you describe your outfits today in more detail?
Saki: Even though the costumes look very similar, if you look closely, the details are not the same! Pay attention to these details.
Chisato: As the choreography is very dynamic, to facilitate the movements, the material is elastic.
Q. Aren't you hot when you dance in this costume?
All members: Yes, it's so hot!
Maimi: Even if the design is made of a special material, you can feel the heat very well.
Chisato : Since it's hotter in Taiwan than in Japan, I wonder if we can keep the show going until the last minute?
Q. This suit is very shiny, isn't it?
Saki: Yes, it's made on purpose because in the clip in which it is used, "Love Take it All", the light from the lasers is reflected in the silver.
Q. It's really special! To follow your outfits, what makeup do you use?
Chisato: Today we put on BB Cream? Ah, no, it's BB Powder. We didn't use powder before, but lately new products have been launched. It looks a bit like talcum powder, but it improves the condition of our skin, so I recommend it to everyone. It should make our skin as soft as a baby's today!
Q. In your daily life, what do you do to relax?
Mai:
With Chisato, we are learning a massage that would help make legs thinner, and we do yoga.
Chisato: If it's to avoid muscle pain, I go to the sauna or have a hot stone massage. But my metabolism is poor, so I sweat less, so with Mai we do some yoga, I plan to join a club next month!
Airi: I do leg acupressure for muscle pain. Five years ago when I came to Taiwan, as I was still young I couldn't go to a leg massage, I thought it was a shame to miss such an opportunity, so I hope to do it this year.
Maimi : I like to cook the desserts but I also like to eat them, I recently made a silk muslin cake!
Saki: I really like taking pictures, and looking at cute pictures on the internet ❤.
Q. Summer is coming, and we're going to sweat. What do you use to take care of your skin on a daily basis?
Mai:
Because my mother has a lot of spots on her face, I'm told I'll have spots when I'm older. So in the summer, when I go out privately, I don't wear makeup, just sunscreen.
Airi: I wash my face a lot with ice water and then I rinse it off. I've heard that hot water makes your face dry, even in winter. So wash your face with cold water.
Maimi: I give myself a 15-minute treatment mask.
Chisato: I am very concerned about my blackheads on my nose. Recently I bought a cream to warm up, then apply to the face and remove it when it is completely dry, which would remove a lot of blackheads. My nose is getting smoother. If you want to know the brand, don't hesitate to ask me for it at a handshake event.
Saki: When I apply lotion, I first wet my face with a cotton pad. Some people think it's not good, but my skin has never been dry, so I keep this method.
Q. What types of stories can you tell us?
Chisato: Lately, we ℃-ute are addicted to Starbucks, we can drink at least two a day! Otherwise, when Mai was little, she liked to repeat what I said. If I said "I'm happy", she would say "I'm happy too! "(Laughter)
Q. If she repeated what you said, it could be because she loved you, right?
Chisato: Maybe!
Mai: Yes, I loved her (laughs).
Laughter from group members
Q. If you had the opportunity to stay in Taiwan for three days and two nights, what places would you like to visit and what would you like to do?
Saki, Mai: Get your hair washed! (Note: a Taiwanese specialty)
Saki: But of course, there are many other things I'd like to experience in Taiwan!
Maimi: I'd like to do night tourism.
Chisato: I've been to Taiwan before. If I get a chance, I'd like to go for an evening walk. I have heard that there are very good restaurants and I know I would be very touched by the temples.
Q. Do you have other projects in Taiwan?
Mai: Unfortunately we don't have any other opportunities planned at the moment, but we will do our best to come back and have fun with you!
Chisato: Even if there are places we haven't visited yet, I would like to come back to Taiwan privately.
Airi: Even though all our activities are based in Japan, I hope to have another chance to come and see the Taiwanese fans to express my gratitude! We hope to see you all again!