(TRANSLATION) ℃-ute - Interview for JOYSOUND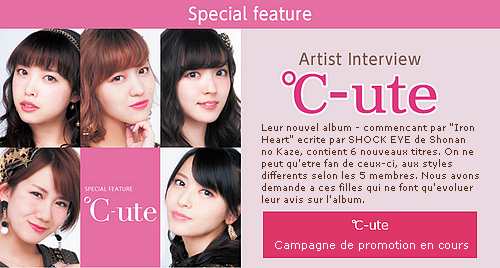 How was 2015 for ℃-ute, since you celebrated your 10th anniversary this year ?
---
Mai HAGIWARA : We were able to stand on the stage of Yokohama Arena, which was a dream for us, and I think it's a year full of gratitude. As we're now Hello! Project's oldest members, our wish to accomplish various things to guide the other members intensified.
Chisato OKAI : During this year's autumn tour, we took lessons from new dance teachers. We had to change our way of dancing and dance formations, and we learned a lot through it. I'm so happy to have accomplished so much in ten years and I hope we'll show many °C-ute's images from now on.
Saki NAKAJIMA : This years, we've became even closer from one another and we worked hard while having the same goals. I think the °C-ute of 2015 are the ones that get along the most !
At the end of the year releases your new album 『℃maj9』.
---
Airi SUZUKI : Yes ! As it's our first album in two years, it contains a lot of our singles and there are also a cappella for the intro and the outro. We were able to record many different songs showing various images of the groupe. I think you'll be able to have a glimpse of what the actual °C-ute are by listening to it.
Maimi YAJIMA : Our discography widened even more thanks to this album, and it'll make our lives funnier. I can't wait to perform the songs in front of fans !
Chisato : It shows ℃-ute's maturity. I really love it and I'm listening to it every day (rires).
The main song, "Iron Heart", written and produced by Shônan no Kaze's SHOCKEYE, is a very powerful track !
---
Maimi :
It shows joyful ℃-ute, the group that's moving forward. We already performed it in live and it really motivate us too. You'll forget all your problems by listening to it !
Mai :
It can make anybody smile. As "Gamusha LIFE" that SHOCKEYE also composed, it became a track that we'd love to continue singing during precious events.

How should we sing it in karaoke ?
---
Saki : It's not a song that can be performed alone, but rather in a group. Don't just sit there, get up, get up ! (laughter)
Airi : There are parts with interaction, where I would like you all to be fired up ! Be fully equipped with tambourines and everything! (laughs).

In this album, we can also find titles centered on one of the members. Can you share with us your tips on how to sing them in karaoke ? First, the one where Okai-san is the lead singer, "Otoko to Onna to Forever".
---
Chisato :
It's a slightly sexy song with a jazzy sound. I never thought I would be the lead singer of such a song (laughs). It's a song that presents a slightly bad woman, and I have to try to interpret it by putting myself in the character. It's a song that I would like women to sing in karaoke. In a mature way, diving into the lyrics please !

As for Nakajima-san, it's a track called "Jounetsu Ecstasy".
---
Saki : Yes, this song was performed for the first time during the last date of our fall tour at Nakano Sun Plaza, but the fans were already into it ! I think it's going to be a hot song in concert. Thanks to Marty Friedman's guitar riffs, this track has become even more exciting. I think it's a song that should be sung at the top of your lungs while dancing vigorously ! Feel free to put it on at night !
"Digitalic→0(LOVE)" is Hagiwara-san's track.
---
Mai : As you can deduce from the title, it's a digital style song with an EDM atmosphere. The lyrics reflect a little bit the feelings of the girls, and I tried to imagine myself singing it in my own way during the recording. The voices in the song are robotic and I think it's the first time we've come up with a title like this. I'm going to seriously think about how to perform it live from now on. In karaoke, do your best to sing in such a robotic way (laughs).

For Suzuki-san, it's"Urayanjau".
---
Airi : I felt envious (laughs). This title is also in a style that ℃-ute had never tackled before, so I thought I was lucky to be able to sing it. During the recording, I brought the microphone closer, and sang in whispers, and I made sure that my voice - recorded on two tracks - gave the song a soft atmosphere. This song is about the feelings of a girl who, although she says she doesn't need a boyfriend, would like to have one. I think this is a feeling that could attract the sympathy of many girls. In karaoke, don't hesitate to put the echo on full blast and sing it while getting into the mood. It's a song that I hope many students and young office girls will sing.

Finally, "Yokaze no Message" for Yajima-san.
---
Maimi : A rather rare song for ℃-ute. From the introduction already, it's a rather sad song, so I tried to dive into its universe and sing it in a melancholic way. I sang a few lyrics as if I was about to cry, and I think that, more than the accuracy of the song, what's important in this title is the emotion it makes you feel. Girls who have been in love before will probably be able to understand the feelings in this song. I think that in karaoke, it would be good to sing it with the lyrics deep inside, so that the people around you can understand the emotion of the song.

Simply by listening to these 5 tracks, we can glimpse many facets of the group.
---
Maimi : Isn't it. It's an album that shows the variety the members' personality. it made me realize how much we were different.

Well, for the last question, tell us about the things you would like to achieve in 2016.
---
Saki : As we were lucky enough to stand on the stage of the Yokohama Arena, so we have a new goal to hold a concert at the Saitama Super Arena, so I want to do my best to make it happen!
Chisato : As for me, I'm getting more and more invited to TV programs, so I want to work hard for that too !
Airi : Yes, even within our individual activities, we want to continue to promote ℃-ute as much as we can.
Mai : I'll be 20 this year (t/n : the majority in Japan), so I'd like to have fun with everyone at the after-shows ! (editor's note : in Japan after events or work, there are often parties where we congratulate ourselves for doing a good job during the day. For employees it's often about alcohol).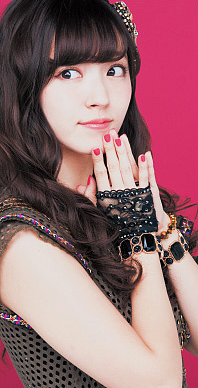 ---
https://www.joysound.com/web/s/karaoke/interview/201601/01